ICAO Designator:
EGFA
Operating hours:
The airport is strictly PPR
Winter 0900 – 1630 UTC (Sunset) Monday to Friday
Summer 0800 – 1530 UTC Monday to Friday
The airport is not generally open to traffic on the weekends. However special arrangements can be made if booked in advance (Out of hours charges will apply). Please call 01239 811100.
Fuel:
Avgas 100LL
Avtur FS34II (Icing inhibitor)
Air traffic:
FISO/AG
Comms:
West Wales Information 122.150 MHz
West Wales Radar 127.090 MHz, (When managing D201/D202 under NOTAM)
Aberporth Range Radar 119.650 MHz
Licenced Runway:
Direction: 25/07
Dimensions: 1188m x 30m
Surface: Asphalt
Unlicenced Runway:
Direction: 22/04
Length: 540m x 30m
Surface: Grass
AIP Entry
Full AIP Entry information – West Wales Airport AIP Entry pdf 
Aerodrome Chart
For UAS operators more detailed charts are available on request, including topographical information of the airfield and the local area.
Manned and unmanned flights can be accommodated on grass as well as the licenced asphalt runway. Visiting pilots must arrange this with the airport prior to flight.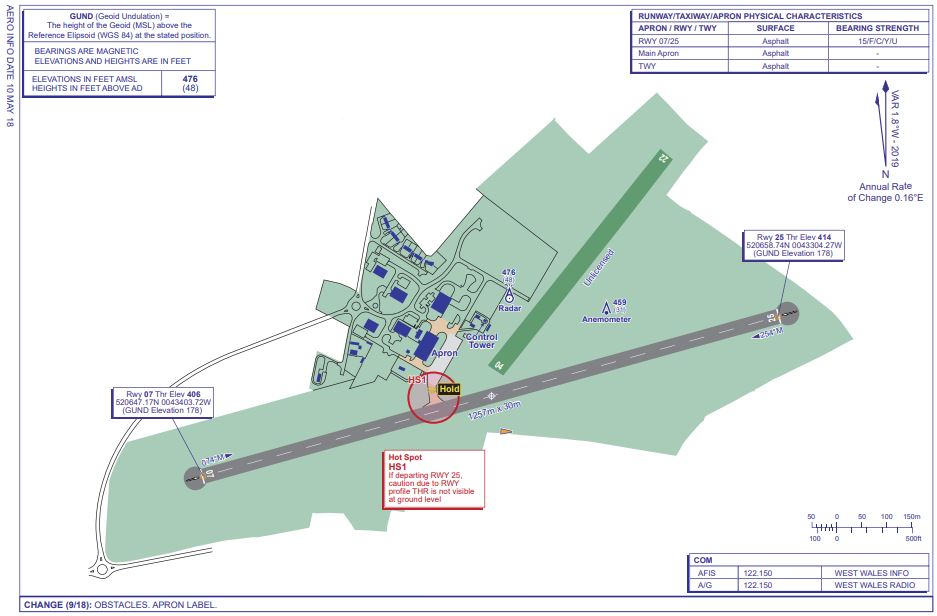 Click the image above for full view PDF.